5 Things Everyone Gets Wrong About Training
During my years as a training director, I learned that everyone in the organization knows how training should happen. I listened to a myriad of opinions about what we should train, when, and where. Don't get me wrong–there were good ideas, too. I happen to believe that the training department should partner with managers to learn about needs and direction of the program. I learned that along with that comes several misconceptions about what "training" is and how to do it effectively. Here are five things everyone gets wrong about training:
Anyone can train. Subject matter experts are just that: Experts in the subject matter they perform. Sometimes subject matter experts (lovingly referred to as "SMEs" in the training field) are good presenters, sometimes not. If confronted with the idea that Bob the mortgage loan originator can teach a class on mortgages, my duty was to confirm that Bob could, indeed, teach the content. Not everyone can teach or train. When I evaluate a prospective trainer, it's to determine whether the person wants to present in front of people and if yes, how can I best help them to accomplish that without sacrificing the standards of the program. There are alternatives to getting the material into the hands of learners such as interviews, podcasts, videos, and articles.

Give them a handout. Somehow, having a handout legitimizes the training class. It should have as much information on it as possible so that when someone leaves the class with the handout, they will be able to remember the information presented. Such handouts, in my opinion, are wastes of time. If the participant can get just as much out of a handout after the class as they can participating in the class, why bother attending? The best handouts are those that require the participant to pay attention to what's going on in the class to be able to follow along on the handout. The handout could have sentences that need to be completed, prompts to write down a number of points that were made, or illustrations that the participant could describe. The handout could be a simple piece of paper for the participant to take notes. The handout shouldn't replace the content of the class.

Give them the slide deck. This is a kin of the handout and sometimes even a substitute for it. Giving participants a copy of the slide deck may seem a plausible way to help them remember content, but only if the trainer is reproducing a high volume of class content on the slides. I prefer to make my slides primarily visual aids for the presentation and limit the number of bullet points on them. A copy of the slide deck might not get the participant very far in their recollection of the session if they are relying on the deck having all the information. There are times, however, when providing the slide deck in handout form can be useful for participants. Give it to them when appropriate.

Training has to be in person. This admonition is fading away as more and more companies are looking for ways to train their staff remotely. It is very common, though, to hear managers declare that people need to go to training (read: to a specific place at a specific time to take part in a class with a live instructor). With people accustomed to watching videos online and taking tests and quizzes via social media, the need to be in a physical classroom has diminished. We are finding ways to train people virtually, either live, in person or through learning management platforms that provide on demand training. There is a benefit to having a community of learners for social learning. That community can be assembled in the online space, too.

You don't need training if you're experienced. It's surprising that people believe we can stop learning once we've achieved a particular level of competence in our fields. With rapid changes in technology and how it's applied to different professions, training to use these tools is essential. Even if you have "learned it all," you forget or don't use information or techniques as consistently as you think. Often we need to keep learning to advance our careers. Exempting experienced people from training does not benefit them. Training needs to adapt and be flexible enough to allow for participants at different stages of their careers and their changing needs.
Everyone has an opinion about training. When you're the trainer, you need to listen to them and then separate the valid recommendations and ideas from those that are less helpful. You may be called upon to justify your decisions, and that becomes a training opportunity, too. If you're a trusted partner, others will welcome the chance to understand why you do what you do.
In my now "ancient" Webster's New World Dictionary, "coach" is first defined as a covered, four-wheeled carriage. Alternate definitions that appear are as a tutor or someone who tells a baseball player what to do. Most of us had our first understanding of what a coach is or does through athletics. The coach was the person who told you how to play the game and helped you understand your role.
Our understanding of coaching and what a coach does has not changed much in this respect, but the introduction of athletic coaching principles to the business world has grown and morphed coaching into its own discipline. We look to business coaches to help us in our careers and "life coaches" to help us with all aspects of our personal lives.
Today's dictionaries still list the definition of "coach" as a carriage or bus, but now the meaning of coach has expanded to "someone whose job is to teach people to improve at a sport, skill, or school subject." It makes sense that those of us in training should also consider ourselves coaches.
In today's world, coaching is usually thought of as a separate activity outside the normal training course. In this sense, coaching is an extension of training where students have learned the basics and now need tutoring to gain expertise in a chosen field. The coach is someone who can help another person be better at something.
When I began my career in real estate, I learned the basics to pass the licensing exam, then attended training classes in the fundamentals of the practice of real estate. I knew what to do, but coaching helped me refine how to practice the profession and helped me discern what was most important to me in my business. Meeting on a regular basis with my coach kept me accountable to myself and my coach. By attending coaching sessions, I gained insights about myself and learned how to be a better real estate agent. Later on, I sought the help of a coach to help me define and refine the next steps in my career. I wasn't sure of my direction and I felt that I needed the assistance of someone who was not a colleague or superior. I found my coach by attending a webinar she gave on a topic I was interested in. We connected after the webinar and discussed how she might help me. Again, the training lead to coaching. My coach didn't just teach me what to do though. She helped me discern my next steps and create a plan to achieve them.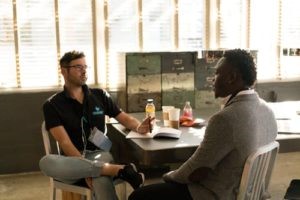 The greatest benefit of coaching in a career or profession is that it helps bring out the best in people so that their expertise can grow and they can be more satisfied in their work. We don't always have the ability to address individual concerns in the context of a training course. It may not be appropriate to do so. Coaching can provide a way to work one-on-one with someone so that they can meet their goals. They may already know what they need to do but lack the awareness of how to achieve.
Small group coaching can also be an effective way to reinforce lessons learned and help people achieve. It has the added benefit of the wisdom of the group. Peers can be coaches, too. At Elite Partners Training & Coaching, we provide small group coaching on a weekly basis to clients. Groups are no larger than eight to ten people and a coach. Participants are held accountable to their business plan. Everyone gets a chance to voice any concerns or difficulties and provide suggestions. The coach guides the conversation and provides insights that can help participants put their knowledge into practice. Sometimes we even role play common situations to reinforce positive behavior. Coaching is how I extend the classroom into daily practice.
A good coach doesn't give a person the answers to their problems by imparting more knowledge. People know what to do. Coaches help them uncover the impediments to reaching their goals and show them the way.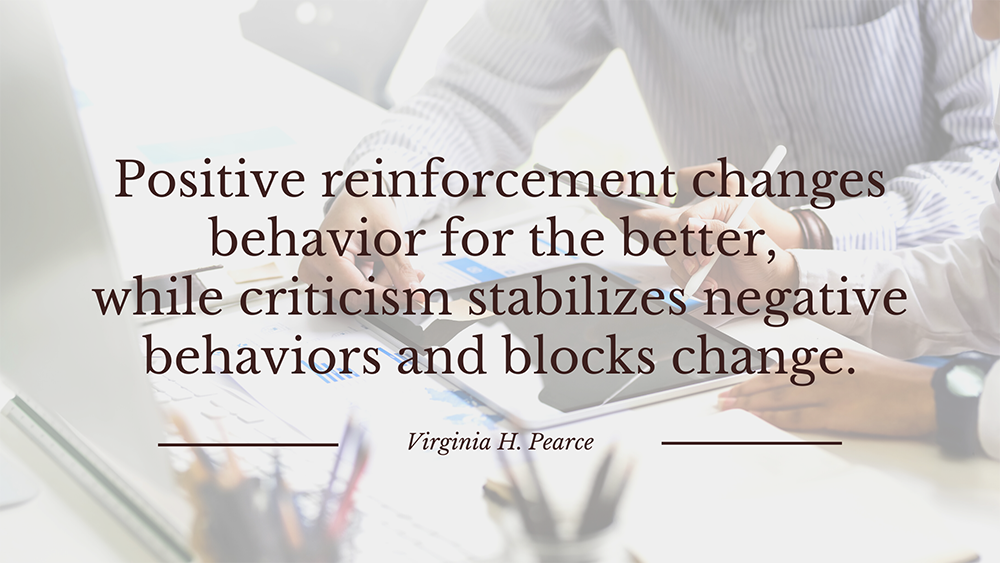 My miniature Dachshund, Calvin, is addicted to dog treats, and it's all my fault. I trained him to come when I called him by giving him a small treat – a dog biscuit or piece of Pup-peroni – if he ran to the door from the far corners of our back yard. It was a very effective technique, and I was careful to use treats intermittently to reinforce his behavior.
At some point, this reward system went off the rails, and now Calvin expects a treat each time we come in from a walk or potty break outside. I created a mini monster with short legs and the kind of nose that can sniff out his favorite treats in a bag of groceries left on the floor.
You're probably wondering what this has to do with training. I've been thinking about testing a lot lately as I prepare a curriculum for a new client. We agreed that the agents moving through the modules of this curriculum should have to pass a short test or quiz to be able to advance to the next module.
There are different kinds of tests that people must take to enter or advance in a profession. In real estate, candidates must take pre-licensing education and then pass a license exam in order to be granted a license to practice. Most pre-license education aims to help students pass this license exam. The courses present the material and test students in the same fashion as the official license exam to both teach the required topics and acclimate students to the type of test they will face.
The reward at the end of this testing is the license itself. The license gives the holder the authority to practice the profession and thereby earn a living. Once someone is licensed, what's the reward for going through additional training and education? We can pass out certificates and trophies, but unless someone really likes these outward expressions of their achievements, they will not be motivated to do the work.
Let's complicate this further by looking at testing during online post-license education and training. These tests cannot be onerous chores that make it difficult for the student to advance to the next level. There are plenty of brokerages in any market that do not expect their agents to test out of training, so it's not likely that this method will benefit the brokerage utilizing it. Agents will merely move to the brokerage where they don't have to pass a test to be able to practice their profession. They already took a license exam that gives them the right to do that. Instead, testing needs to be more of a "treat" than a trial.
To make online testing a "treat," I construct short quizzes with clear options for multiple choice questions and some yes/no questions. These quizzes reinforce the concepts taught rather than try to catch students in a trap where they are forced to question their answers. It's important to use a platform that gives you the ability to give immediate feedback when the student selects an answer. If a student answers a question correctly, there's positive feedback such as "Great!" or "That's correct!" I sometimes add information about the answer to further reinforce the concept taught. Incorrect answers will give similar prompts to encourage the student to reconsider and attempt the question again. If the system allows for immediate retake of a quiz or test, enable it. Remember, the goal of the test is not to weed people out, but rather to reinforce the student's need to pay attention and learn the material.
There's a psychological component to positive reinforcement during testing. "Learning accompanied by positive feelings and associations is more likely to be remembered, even beyond the end of the reinforcement schedule," according to an article on positive reinforcement in psychology. Positive reinforcement allows an instructor or trainer to encourage the behavior and learning they desire. My example earlier of giving my dog a treat to get him to come to me when I called him is an example of positive reinforcement.
I have resigned myself to my dog's expectation that he'll get a treat every time he does something I ask him to do (and sometimes just because . . . ). As long as he doesn't gain too much weight, I can live with feeding him little treats to reinforce his behavior. Likewise, I enjoy giving real estate agents positive reinforcement when they take my courses. My aim is to help them have the kind of results from their business that they desire. That's the ultimate "treat."